What is SamplesFirst?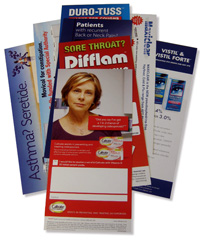 SamplesFirst is a proprietary direct mail format which provides an effective and cost-efficient way for doctors to request product samples and patient support material.
SamplesFirst cards are sent out to all full-time General Practitioners in New Zealand four times per year - with a maximum of 12 cards per mailing. Requests for samples are then completed and returned by the doctor for subsequent delivery by your representatives, or by courier or post.
What is special about SamplesFirst?
SamplesFirst cards are a cost-effective, efficient, no-hassle means of:
Obtaining sales leads
Identifying users of your products
Supplying information about your products to general practitioners
Distributing samples into the marketplace
How does SamplesFirst work?
You design the front of the DL size SamplesFirst card offering your samples and/or information - leaving a space for the digitally printed doctor contact details - and we do the rest!
Medidata offers a design service if required.
For a very reasonable rate, your investment includes:
Four color printing
Assembly
Postage
Data entry of responses
Summary report of responders (split by territory if required)*
Response rates
Set of labels if required
* Reports are provided 4-5 weeks after the mailing.
You won't find a more cost-effective advertising opportunity!
Contact Helen Roos on info@medidata.co.nz
2019 Details
| | |
| --- | --- |
| one card | $2100 + gst |
| two cards | $2000 + gst/each |
Optional Extras:
| | |
| --- | --- |
| Design target card | $600.00 +gst |
| Data sheet if required (ask for cost) |   |
Design Specifications:
Please supply High Resolution CMYK PDF file
Please note finished size is 99x210mm and also add 3mm bleed to image for trimming
Please leave a space of 90x30mm blank on the artwork for doctors address details to be printed
Please also ensure your TAPS approval number is printed on your SamplesFirst Card.
(Go to www.anza.co.nz for more information)
2019 Schedule:
| | |
| --- | --- |
| Material Deadline | Mailing Date |
| Feb 7th | Feb 18th |
| April 26th | May 6th |
| July 26th | August 5th |
| Oct 23rd | Nov 1st |
Would you like to book this service?
Contact Helen Roos on info@medidata.co.nz