A SamplesFirst Card is an easy, cost-effective way to generate leads for your sales reps and get your products and product information into the GP market.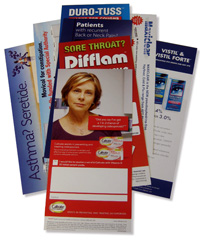 SamplesFirst is a well-established product that GPs know and expect each quarter. Response rates are up to 22% compared to a good DM response rate of 10%.
Use SamplesFirst to offer samples or more information about your product or service, as a survey tool, or simply a brand reminder.
We are licensed by the Ministry of Health for sample distribution and can quote on fulfilling them for you.
For mailing dates and pricing, please click here.